Medical technology – software for medical systems

softgate has been active in the field of medical informatics with its Medical Solutions and Embedded Systems teams since its founding.
Thanks to years of experience and close collaboration with our customers in the field of medical systems and equipment development, when developing software for medical image processing the Medical Solutions division focuses specifically on the needs of its customers and, ultimately, users: In other words, the doctors and staff at hospitals and medical practices.
Our range of services includes:
Firmware, embedded or real-time software to control devices, displays, and processes
Recording, processing, and storage of image data and other measured values
Development of graphical user interfaces (GUI, HMI) for medical systems
Connectivity for medical devices through adherence to standards such as DICOM, HL7, and GDT, taking IHE into account
Thanks to our extensive project expertise built up over many years, we can develop high-quality software for medical systems on a targeted basis. As an ISO 13485- and ISO 9001-certified manufacturer, we operate in a wide range of medical fields.
This, combined with our experience in handling safety-critical medical applications up to Safety Class C (IEC 62304), makes us a strong, reliable partner for developing and advising on customized solutions. To top it all, we also create specifications at all levels of the development process and provide advice in our various areas of expertise.
We offer development and advice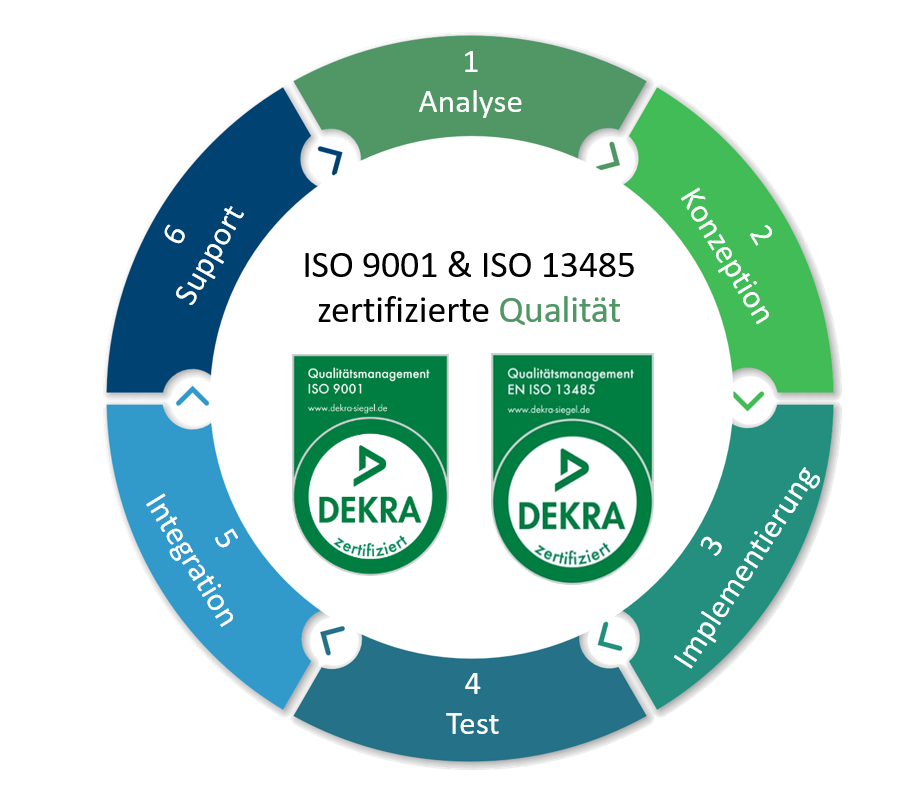 Contact us:
Please feel free to contact us if you have any questions. We would be happy to give you an initial overview of how you can achieve your individual goals with our efficient solutions and team of experts.